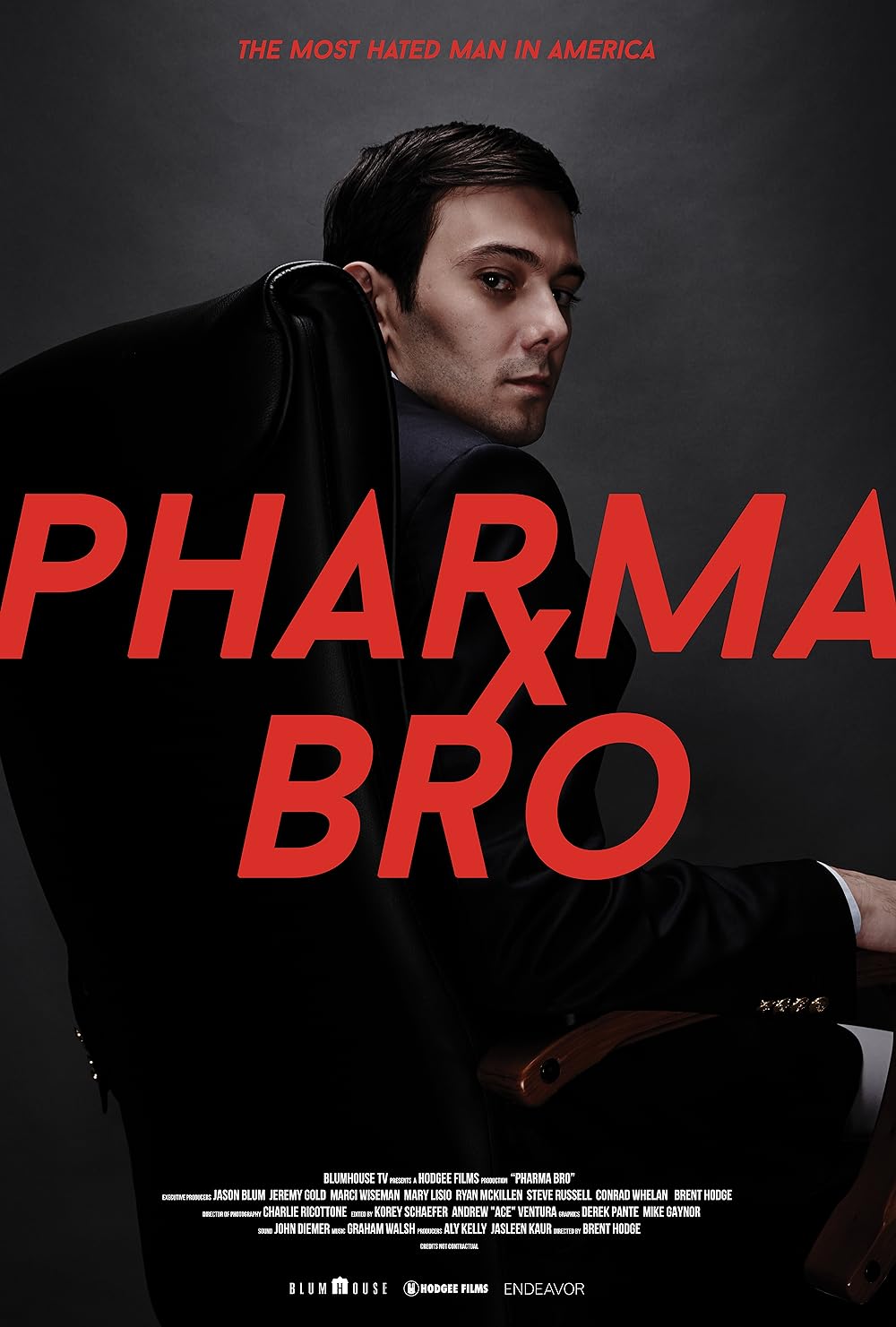 Pharma Bro - 2021
Pharma Bro - 2021
*Recommended to use Chrome browser to watch movies.
Abot Pharma Bro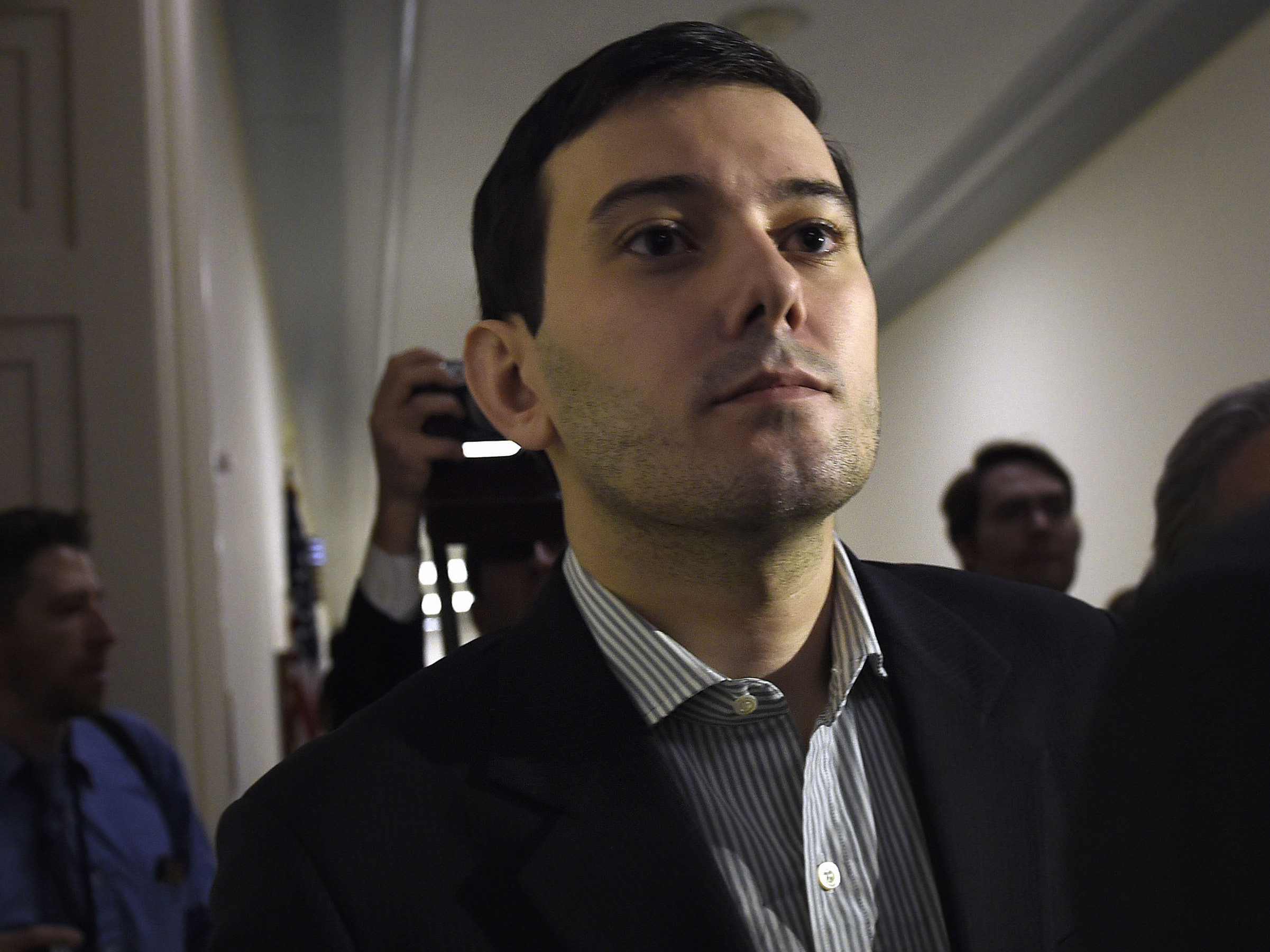 A documentary profiling Martin Shkreli, the financial entrepreneur and pharmaceutical tycoon from Brooklyn, New York, known for raising the price of an AIDS drug 5500% overnight, buying the sole copy of a Wu-Tang Clan album for $2 million dollars and being convicted of securities fraud. The most hated man in America, Martin Shkreli is Pharma Bro.
About Martin Shkreli
Martin Shkreli (/ˈʃkrɛli/; born March 17, 1983) is an American businessman and convicted criminal. Shkreli is the co-founder of the hedge funds Elea Capital, MSMB Capital Management, and MSMB Healthcare, the co-founder and former CEO of pharmaceutical firms Retrophin and Turing Pharmaceuticals, and the former CEO of start-up software company Gödel Systems, which he founded in August 2016.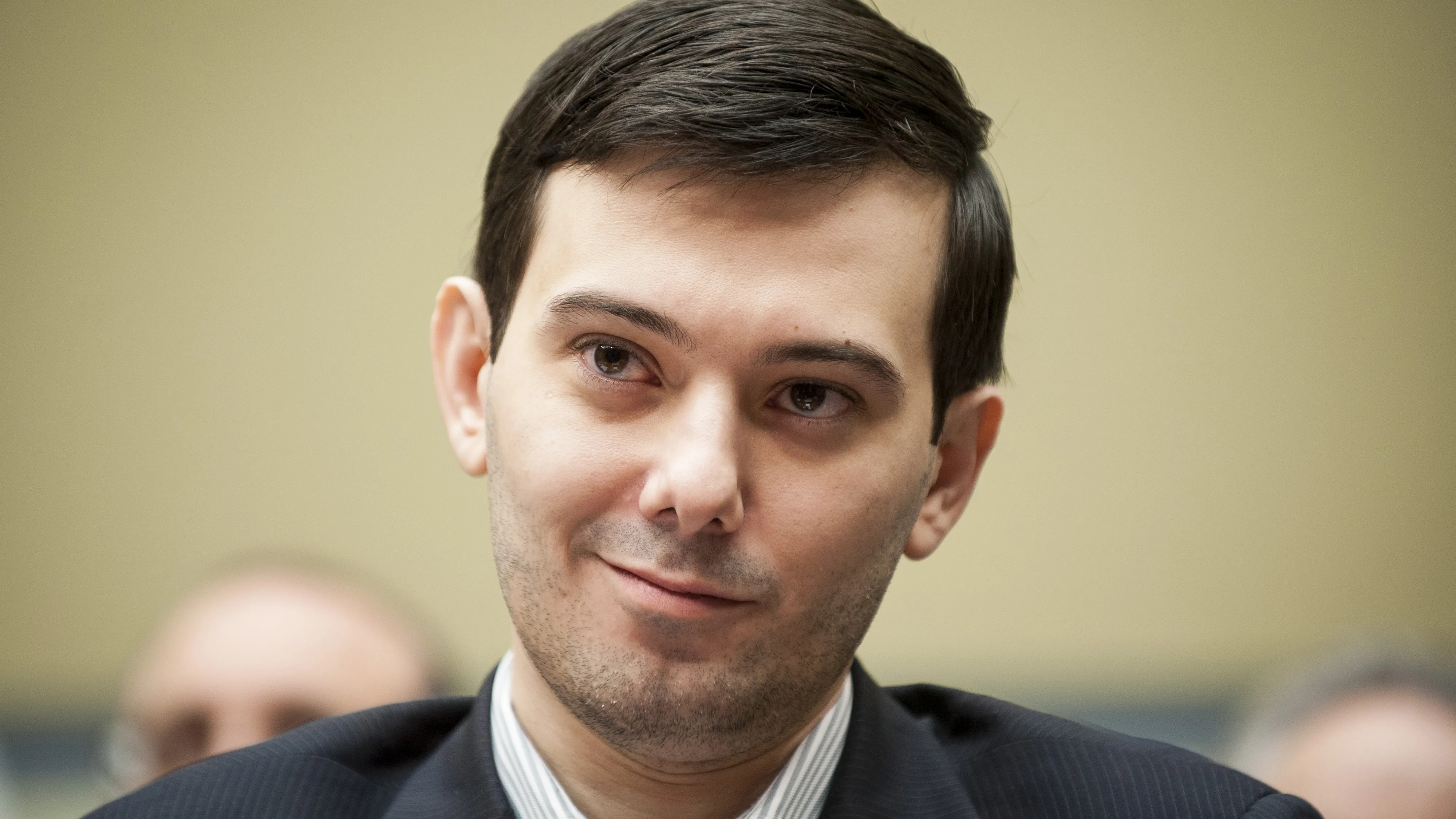 In September 2015, Shkreli was widely criticized when Turing obtained the manufacturing license for the antiparasitic drug Daraprim and raised its price by 5,455% (from US$13.50 to $750 per pill).
In 2017, Shkreli was charged and convicted in federal court on two counts of securities fraud and one count of conspiracy for activity unrelated to the Daraprim controversy. He was sentenced to seven years in prison and up to $7.4 million in fines. In the civil antitrust (monopoly abuse) case Shkreli was fined a further $64.6 million to be repaid to victims. On May 18, 2022, he was released early from the low-security federal prison in Allenwood, Pennsylvania.
Early life
Shkreli was born in Coney Island Hospital in the New York City borough of Brooklyn on March 17, 1983, to Albanian immigrant parents.His parents were Roman Catholic, and he said his religion has been "a guiding post" for him, although he does not believe in God. His parents immigrated to the United States and worked as janitors. He, his two sisters, and his brother grew up in a working-class community in Sheepshead Bay, Brooklyn. Shkreli was raised Catholic and attended Sunday school as a child. Shkreli attended Hunter College High School. Sources differ on whether Shkreli graduated from Hunter or whether he was expelled before his senior year and received the credits necessary for his high school diploma through City-As-School High School.He ended up in a program that placed him in an internship at Wall Street hedge fund Cramer, Berkowitz and Company when he was 17. Shkreli received a bachelor's degree in business administration from Baruch College in 2004.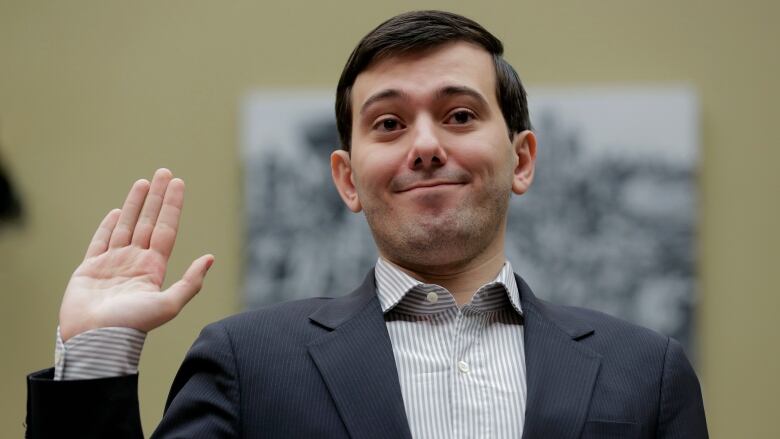 Shkreli told Vanity Fair that he developed an interest in chemistry when a family member suffered from treatment-resistant depression.
Career
During Shkreli's time at Cramer, Berkowitz and Company, he recommended short-selling the stock of Regeneron Pharmaceuticals, a biotech company testing a weight-loss drug. When its price dropped in accordance with Shkreli's prediction, Cramer's hedge fund profited. Shkreli's prediction drew the attention of the Securities and Exchange Commission, which investigated Shkreli's knowledge about the stock but was unable to prove wrongdoing on his part.
MSMB Capital Management
After four years as an associate at Cramer Berkowitz, Shkreli worked as a financial analyst for Intrepid Capital Management and UBS Wealth Management.He then started his first hedge fund, Elea Capital Management, in 2006. In 2007, Lehman Brothers sued Elea in New York state court for failing to cover a 'put option transaction' in which Shkreli bet the wrong way on a broad market decline. When stocks rose, Shkreli did not have the money to cover his losses. In October 2007, Lehman Brothers won a $2.3 million default judgment against Shkreli and Elea, but Lehman collapsed before it could collect on the ruling.
In September 2009, Shkreli and a childhood friend Marek Biestek started MSMB Capital Management, which took its name the initials of the two. Shkreli and Biestek shorted biotech companies, then described flaws in the companies on stock trading chat rooms.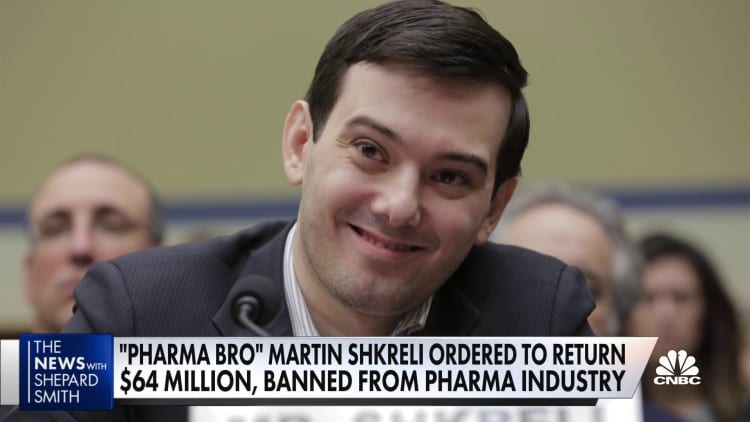 On February 1, 2011, in a naked short sale on an account it held with Merrill Lynch, MSMB Capital sold short 32 million shares of Orexigen Therapeutics stock at about $2.50 per share the day after its price plunged from $9.09, when the Food and Drug Administration (FDA) declined to approve the drug naltrexone/bupropion (Contrave). The stock price rebounded; MSMB could not cover the position, although it had told Merrill Lynch that it could. Merrill Lynch lost $7 million on the trade and MSMB Capital was virtually wiped out. Retrophin's 2015 SEC Complaint contended Shkreli had created MSMB Healthcare and Retrophin "so that he could continue trading after MSMB Capital became insolvent and to create an asset that he might be able to use to placate his MSMB Capital investors."
In 2011, Shkreli filed requests with the FDA to reject a new cancer diagnostic device from Navidea Biopharmaceuticals and an inhalable insulin therapy from MannKind Corporation while publicly short-selling both companies' stocks, the values of which dropped after Shkreli's interventions. The companies had difficulty launching the products as a result, although the FDA ultimately approved both.
In 2011, MSMB made an unsolicited cash bid for AMAG Pharmaceuticals at a price of US$378,000,000. Matthew Herper of Forbes wrote that the attempted hostile takeover was "done for the specific purpose of firing the company's management and stopping a proposed merger with Allos Therapeutics. When the merger plans stopped, so did Shkreli."
Personal life
In December 2020, Shkreli was in a relationship with Christie Smythe, a former reporter for Bloomberg News who broke the news of Shkreli's arrest in 2015. Smythe described their relationship as being "life partners". In October 2021, Smythe said the two had broken up but remained friends.
In October 2023, Vanity Fair published an article on Madison Campbell, the CEO of Leda Health. In the article, it was revealed that Campbell had been involved in a romantic relationship with Shkreli between February and August 2023. Campbell says the two bonded over being "healthcare pariahs" but chose to keep her relationship with him private due to his reputation. Shkreli denied Vanity Fair's request for comment and blocked the author of the article on Twitter.
Hobbies and interests
Shkreli, an avid League of Legends player, began expressing interest in purchasing an eSports team in May 2014. Enemy eSports rejected a US$1.2 million offer from Shkreli. He later founded his own team, Odyssey eSports, and aimed to qualify for the 2015 North American League of Legends Challenger Series, but the team failed. In August 2015, Odyssey merged with another team to become the organization Team Imagine, with Shkreli becoming chairman of the team. During the merger, the organization signed the Dota 2 team Leviathan.
Shkreli won an auction for the Wu-Tang Clan album Once Upon a Time in Shaolin after the single copy of the album was sold via Paddle8 on November 24, 2015, for US$2 million.In October 2016, Shkreli said on his Twitter account that he would release the album for free download if Donald Trump won the 2016 US presidential election and would destroy the album if Hillary Clinton won. He shared the intro and one track, the day after Trump became the president-elect.
In September 2017,Shkreli attempted to sell Once Upon a Time in Shaolin on eBay, with the winning bid passing US$1 million. He was incarcerated before the sale could be completed.In March 2018, following Shkreli's conviction for fraud, a federal court seized assets belonging to him worth $7.36 million, including Once Upon a Time in Shaolin.