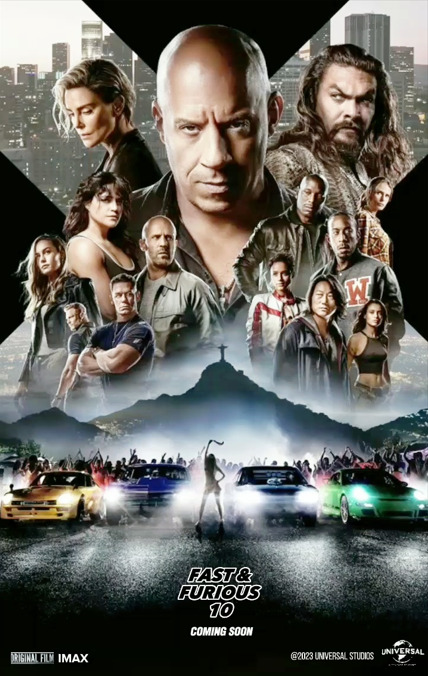 Fast X
Fast X
*Recommended to use Chrome browser to watch movies.
About Fast X
Fast X (also known as Fast & Furious 10) is a 2023 American action film directed by Louis Leterrier from a screenplay written by Dan Mazeau and Justin Lin, both of whom also co-wrote the story with Zach Dean. It is the sequel to F9 (2021), the tenth main installment, and the eleventh installment overall in the Fast & Furious franchise. It stars Vin Diesel as Dominic Toretto alongside an ensemble cast including Michelle Rodriguez, Tyrese Gibson, Chris "Ludacris" Bridges, John Cena, Nathalie Emmanuel, Jordana Brewster, Sung Kang, Scott Eastwood, Daniela Melchior, Alan Ritchson, Helen Mirren, Brie Larson, Rita Moreno, Jason Statham, Jason Momoa, and Charlize Theron. In the film, Toretto must protect his family from Dante Reyes (Momoa), who seeks revenge for his father's death and the loss of his family's fortune.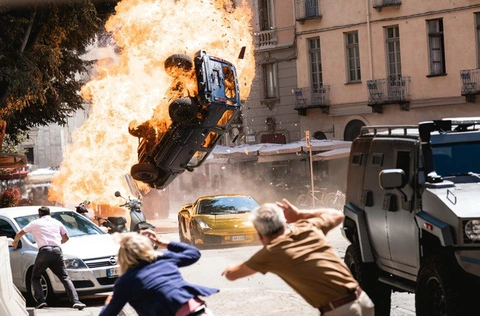 With a tenth film planned since 2014, and a two-part finale planned since October 2020, Lin was confirmed to return to direct with the main cast attached. The film's official title was revealed when principal photography began in April 2022. Lin left as director later that month, citing creative differences, though he retained writing and producing credits. Leterrier was then hired as his replacement a week later and performed several uncredited rewrites to the screenplay. Longtime franchise composer Brian Tyler returned to score the film. With an estimated production budget of $340 million, Fast X would be the eighth-most expensive film ever made. Filming lasted until that August, taking place in London, Rome, Turin, other Italian cities, Lisbon, and Los Angeles.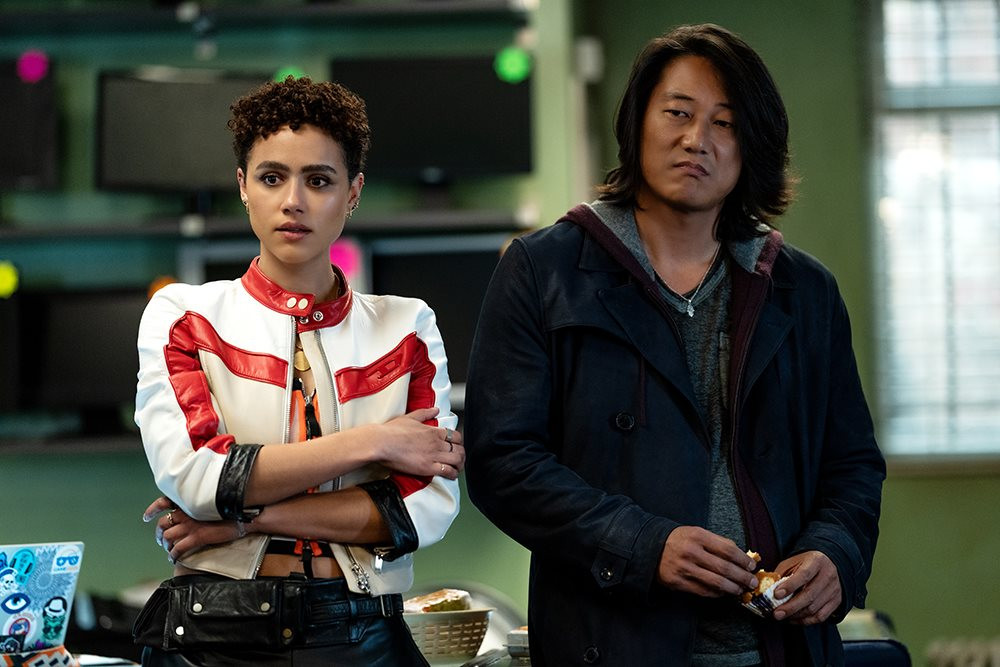 Fast X premiered in Rome on May 12, 2023, and was released in the United States on May 19, by Universal Pictures. The film received mixed reviews from critics, with praise for its action sequences and Momoa's performance but criticism towards the writing. The film grossed $714 million worldwide, becoming the fifth-highest-grossing film of 2023. A sequel is in development and scheduled to be released on April 4, 2025.
Substance
Dominic Toretto and his team are requested by the Agency to steal a computer chip during its transit in Rome. Dom and his wife Letty Ortiz stay behind with his son Brian "Little B" Marcos, while the rest of the team, consisting of Roman Pearce, Tej Parker, Han Lue, and Ramsey, travels to Rome. A wounded Cipher arrives at Dom's home and informs him and Letty that Dante Reyes, the son of drug lord Hernan Reyes, has turned her crew against her and is using them to target Dom as revenge for his father's death and the loss of his family's fortune ten years prior.[b] When Little Nobody says that there is no Agency mission in Rome, Dom and Letty realize that Dante set them up and they go to rescue the team.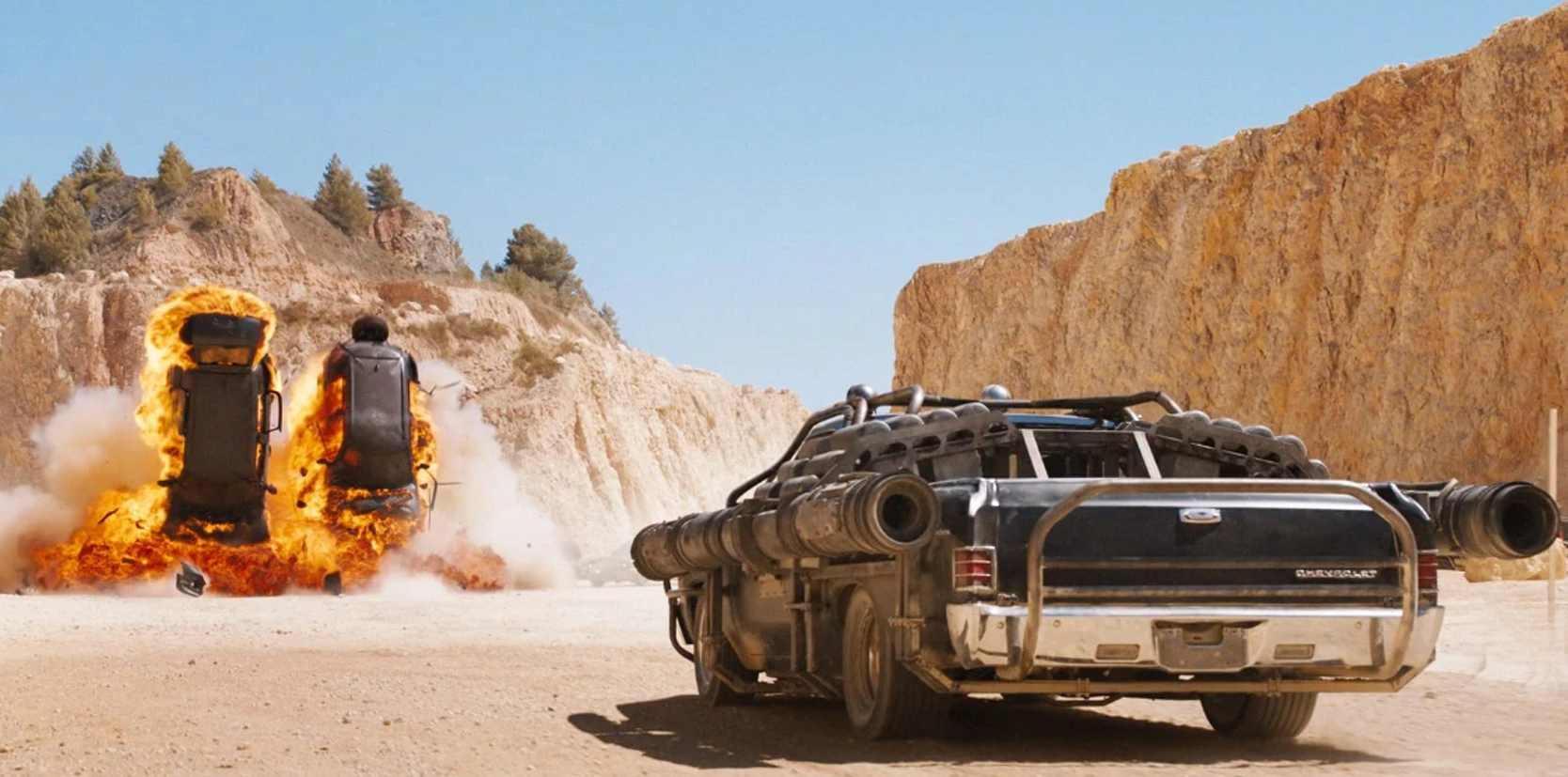 In Rome, Dante releases a metal ball bomb into the streets. Dom pushes it into the Tiber River, minimizing the damage, but Letty is arrested. Agent Aimes, the Agency's de facto leader since Mr. Nobody's disappearance,[c] believes that Dom and his team are responsible for the bombing and begins a manhunt. In Los Angeles, Dom's brother Jakob rescues Little B and Mia, his and Dom's sister, from a squad sent by Dante to kidnap Little B and with her approval, takes Little B to a secret location in Portugal, where they will await Dom. Mr. Nobody's daughter, Tess, is convinced of the team's innocence and uses God's Eye[d] to find Dom in Naples, informing him that Dante is in Rio de Janeiro.
There, Dom confronts Dante and meets Isabel Neves, the sister of Little B's late mother Elena.[e] Dom later challenges Dante to a race, along with Isabel and his ally, Diogo. However, Dante wins while killing Diogo and injuring Isabel. Tess visits Letty at the black site and covertly wounds her to send her to the prison's treatment center, where Letty meets Cipher. They discover the black site is located in Antarctica and they must work together to escape. In London, Dom's team turns to Deckard Shaw for help, through the convincing of Han after a scuffle between himself and Deckard.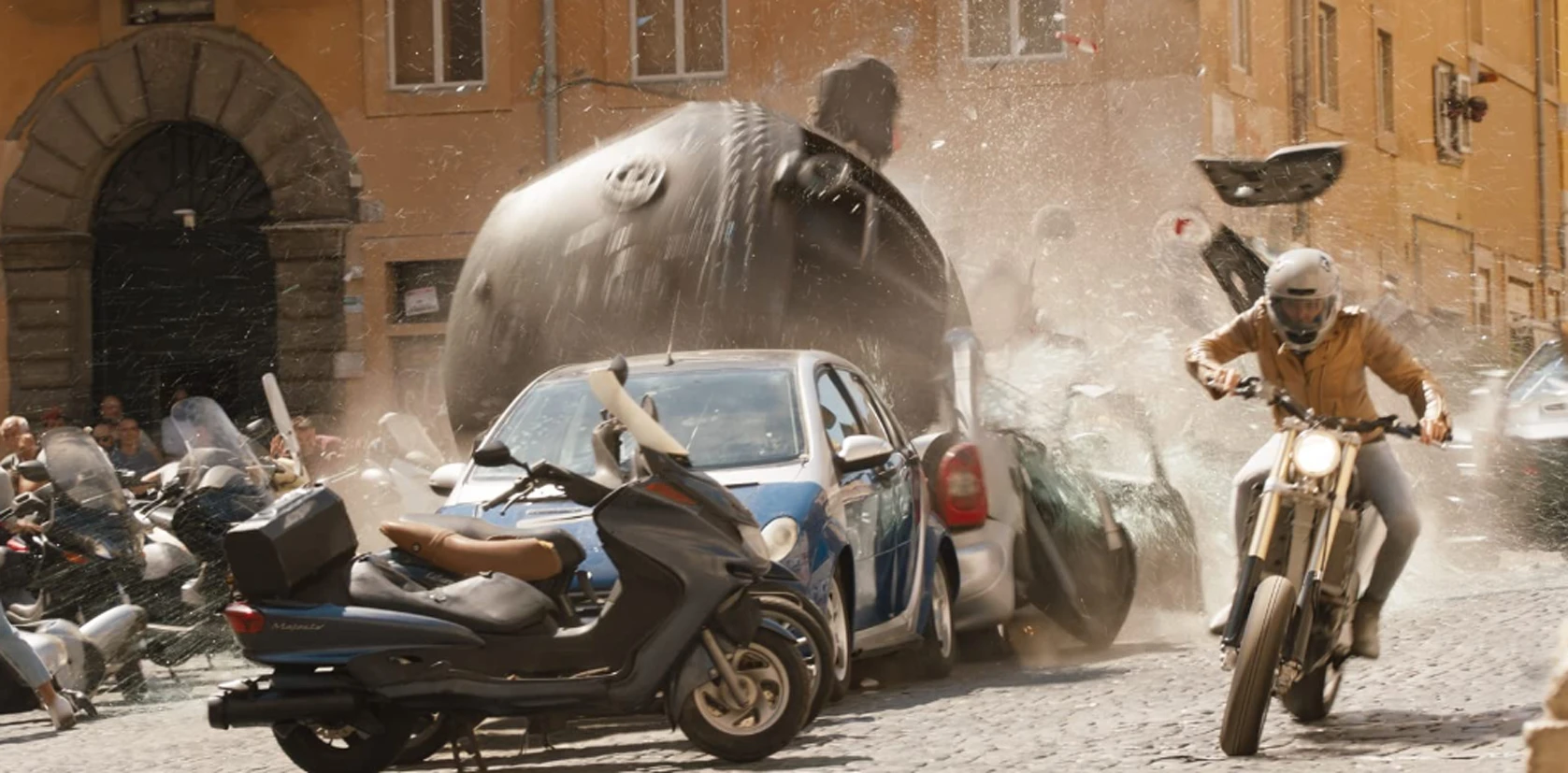 Aimes joins forces with Dom to fight Dante. Dante locates Little B in Portugal and kidnaps him. As Dom is cornered by mercenaries, Jakob sacrifices his life to take them all out, allowing Dom to rescue his son. Dante again corners Dom and his son, just as Roman, Tej, Han, and Ramsey arrive by plane to aid Dom. Realizing too late, Dom tells Roman to turn the plane around, but Aimes, revealed to be working for Dante, shoots down the plane, leaving each member of the team's fates unknown. Dom drives off the edge of the dam they are on to avoid Dante's trap, but Dante has the dam rigged with eighteen explosives and arms them, leaving Dom and Little B's fates unknown as well. In Antarctica, Gisele Yashar, who was presumed dead,[f] emerges from a submarine to rescue Letty and Cipher.
In a mid-credits scene, Luke Hobbs infiltrates an abandoned theatre with a team of agents where he is contacted by Dante who warns him that he was the one who killed his father and that he will be his next target.
Cast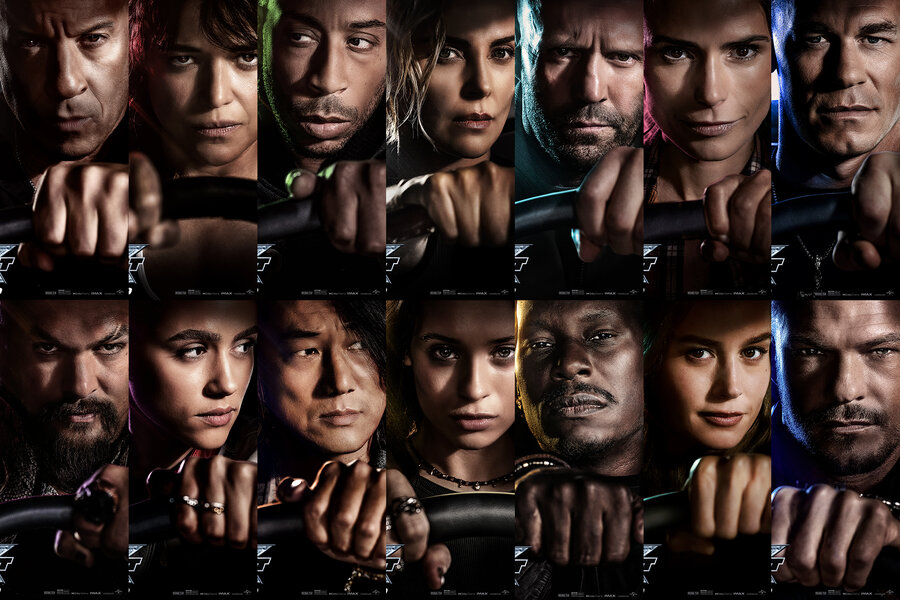 Vin Diesel as Dominic Toretto:
A former criminal and professional street racer who has retired and settled down with his wife, Letty Ortiz, and his son, Brian Marcos. In an interview, Louis Leterrier described Fast X as exploring the fallout of Dom's actions in previous installments, saying "[Dom] has fought so hard to keep faith and protect family [but] there is a price to pay. His enemies are coming after him".
Michelle Rodriguez as Letty Ortiz: Dom's wife and a former criminal and professional street racer.
Tyrese Gibson as Roman Pearce: An ex-habitual offender, expert street racer, and a member of Dom's team.
Chris "Ludacris" Bridges as Tej Parker: A tech expert, mechanic, and a member of Dom's team.
John Cena as Jakob Toretto: Dom and Mia's brother and a master thief, assassin, and high-performance driver who once worked as an agent for Mr. Nobody.
Nathalie Emmanuel as Ramsey: A computer hacktivist and a member of Dom's team. Emmanuel said her character would see increased involvement in Fast X compared to the previous films.
Jordana Brewster as Mia Toretto: Dom and Jakob's sister and a member of Dom's team who has two children with her partner, Brian O'Conner.
Sung Kang as Han Lue: An expert drifter and member of Dom's team who previously faked his death during a covert operation for Mr. Nobody.
Scott Eastwood as Little Nobody: A government law enforcement agent who worked under Mr. Nobody.
Daniela Melchior as Isabel Neves: A Brazilian street racer and the sister of Dom's former girlfriend and Little B's mother, Elena Neves.
Alan Ritchson as Aimes: The new leader of Mr. Nobody's agency who is covertly working with Dante. In early drafts, Aimes and Dante were brothers, and Ritchson revealed the film's plot twist was filmed alongside another ending, saying, "Aimes wouldn't care [if] he's evil [if] his methods made him feel like he was a good guy".
Helen Mirren as Magdalene "Queenie" Ellmanson-Shaw: The leader of a female militia and an ally of Dom, as well as the mother of his former enemies Deckard and Owen. Mirren drew inspiration for the character from her aunt (also nicknamed Queenie) and from her performance as Queen Elizabeth II in The Queen (2006).
Brie Larson as Tess: Mr. Nobody's daughter and agent who allies with Dom and his crew. According to Diesel, Larson drew inspiration from his daughter, Pauline, for the character.
Rita Moreno as Abuelita Toretto: Dom, Jakob, and Mia's paternal grandmother.
Jason Statham as Deckard Shaw: A former opponent of Dom and his team, who became an ally and new member after saving his son. Deckard's younger brother, Owen, was hospitalized working for Cipher.
Jason Momoa as Dante Reyes: The son of drug lord Hernan Reyes, seeking revenge against Dom and his crew for the death of his father and loss of his family's fortune in Fast Five (2011).
Momoa described the character as Dom's foil, saying Dante is "very sadistic and androgynous and he's a bit of a peacock... He's got a lot of issues. He's definitely got some daddy issues". Momoa expressed a desire to play against type when portraying Dante, taking on a "less macho" character, and he performed his own stunts for the film.
Charlize Theron as Cipher: A criminal mastermind and cyberterrorist who was previously an enemy of Dom's team.Leterrier described Cipher as the "devil", and speaking on her dynamic with Dante, Leterrier said, "They are bad news, but one is more afraid than the other. One is worse news than the other".
Gal Gadot and Dwayne Johnson reprise their roles from the franchise uncredited as Gisele Yashar and Luke Hobbs during the final scene and mid-credits scene, respectively. Joaquim de Almeida reprises his role as Hernan Reyes, a ruthless drug lord and Dante's father, from Fast Five, while Leo Abelo Perry portrays Brian "Little B" Marcos, Dom's son. Luis Da Silva reprises his role from Fast Five as Diogo, a Brazilian street racer who allies with Dom and his crew. Making cameo appearances are Brazilian singer Ludmilla as a race starter in Rio de Janeiro, Pete Davidson as Bowie, a friend of Ramsey, Paul Walker's daughter Meadow as a flight attendant helping Jakob, and Debby Ryan and Josh Dun (credited as themselves) as a couple in an airport.